Outreach Events and Activites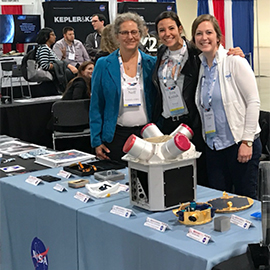 American Astronomical Society (AAS)
The next American Astronomical Society (AAS) 239th AAS Meeting will be held — 9–13 January 2022, Salt Place Conventioan Center, Salt Lake City, UT. Get more details at the AAS website.
Request an outreach speaker and materials
Please contact us if you would like to request an outreach speaker and/or materials for your school or science event. It's simple, just complete the Outreach Request form and email to us at stephanie.m.clark@nasa.gov.
New Views of the Universe Traveling Exhibit
The Hubble Space Telescope team offers a 2,000-square-foot exhibit, which immerses visitors in the magnificence and mystery of the Hubble mission and introduces the James Webb Space Telescope. A scale model of the Hubble is the focal point of the installation. "Satellite" units incorporate hands-on activities about how the telescope works, and feature Hubble's contributions to the exploration of planets, stars, galaxies, and the universe. Please visit https://www.nasa.gov/content/the-hubble-traveling-exhibit for more information.