Outreach Activities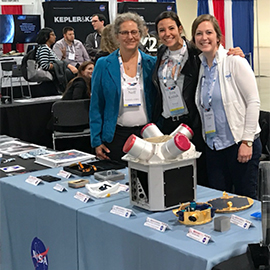 231st AAS Meeting Turnout
There was another great turnout at the 231st meeting of the American Astronomical Society (AAS) at the Gaylord National Resort and Convention Center in Oxon Hill, MD. The Physics of the Cosmos and Cosmic Origins programs were showcased this year and are looking forward to attending next year's AAS meeting being held at the Washington State Convention & Trade Center in Seattle, WA. For more information about future meetings, please refer to the AAS website.
New Views of the Universe Traveling Exhibit
The Hubble Space Telescope team offers a 2,000-square-foot exhibit, which immerses visitors in the magnificence and mystery of the Hubble mission and introduces the James Webb Space Telescope. A scale model of the Hubble is the focal point of the installation. "Satellite" units incorporate hands-on activities about how the telescope works, and feature Hubble's contributions to the exploration of planets, stars, galaxies, and the universe. Please visit https://www.nasa.gov/content/the-hubble-traveling-exhibit for more information.
Request an outreach speaker and materials
Please contact us if you would like to request an outreach speaker and/or materials for your school or science event. It's simple, just complete the Outreach Request form and email to us at stephanie.m.clark@nasa.gov.