Involving Students and Postdocs in SAT Projects
Most of our technology development PIs hire students and postdocs, on average three or four per project, totaling many dozens to date. This helps train the future astrophysics workforce. As can be seen in the quotes below, the Program is making a deep impact on these future technologists, and through them promotes astrophysics missions over many decades to come.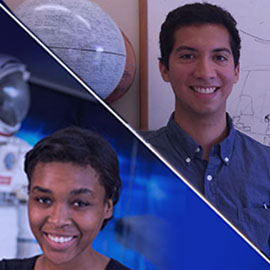 NASA STEM Engagement :
Look for Internships and Fellowships
NASA internships and fellowships leverage NASA's unique missions and programs to enhance and increase the capability, diversity and size of the nation's future science, technology, engineering and mathematics (STEM) workforce. Internships are available from high school to graduate level. Internships provide students with the opportunity to participate in either research or other experiential learning, under the guidance of a mentor at NASA.