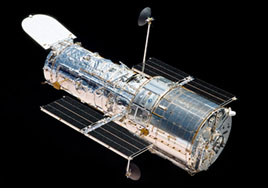 Make Your Own Hand-held Hubble!
Make a scale model of NASA's Hubble Space Telescope using easy-to-find supplies and our printable materials.
These models aren't working telescopes—you can't peer at the sky with them. But they can give you an up-close look at the telescope's structure and a challenging project to engage your model-making skills.
›› Make Hubble
Spitzer Space Telescope Models
Build your own detailed paper model of the Spitzer Space Telescope. Simply download the paper model, created by Erik te Groen of the Public Observatory Philippus Lansbergen.
Spitzer Lego Model
Dr. Jennifer Karr, a researcher at the Spitzer Science Center, figured out how to build a model of Spitzer using the popular Lego building blocks.
›› Make Spitzer Models